Performance driven strength and conditioning
Follow one of our online programs from anywhere with our app
Runs great on your device
install on Android or Safari + iOS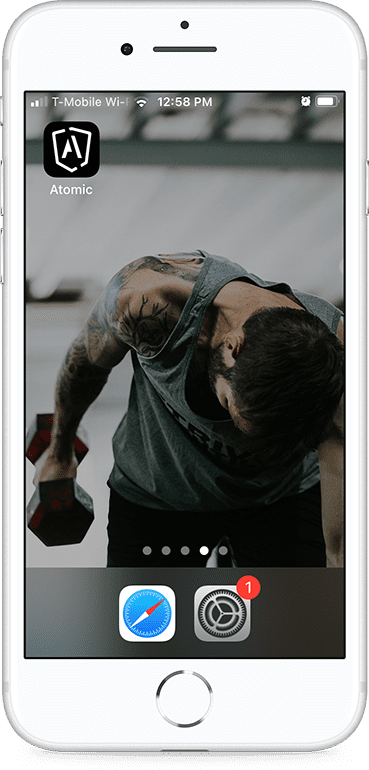 Train with us abroad. We offer dozens of individual programs as well as our weekly programming from our HQ location in Austin. 
Pick a section below, or browse all here.
Get full online access for
just $39.99 a month
The word on the street...
Over the past 12 years we've made thousands of athletes stronger, faster, and more resilient.
Below is a small sampling. For the full story check out google.
"Best gym and Athletic experience in Texas, possibly the world. It's not Cross-fit so get that out of your head! These guys coach and train and have a combined knowledge of an Einstein and Arnold love child! They will keep you honest and structured in your training so you can perform at you're highest level. Additionally, there is fun to be had all around and every Athlete either has a smile or tormented look on their face! Join Atomic if you're in Austin. Or signup for the best programming around on-line."
- Brendan
Hunter and Guide
I've been a practitioner of BJJ for many years. After moving to Austin five years ago, I noticed a particular breed of athlete at the academy that would give me fits, even though I had an advantage both in technique and experience. I came to find out all of them trained at Atomic Athlete. I decided to see what the fuss was about and tried my first class a couple years ago. HO BOY, now I got it. The workouts here are brutal and doable at the same time. I love this place!"
- Koji
BJJ Black Belt
"I'm on my 6th week at Atomic. I need new blue jeans because my chicken legs are turning into gorilla legs. Having had 5 knee surgeries in the past, I really appreciate the emphasis on knee stabilization and strengthening. The workouts are well thought out, not random. The programming makes a ton of sense and the results have been pretty immediate for me. I own a couple businesses in the fitness industry and have been to over 150 gyms across the country. Atomic is unlike any other."
- Chris
CEO Couraj
"Absolutely love this gym! I've done it all- orange theory, F45, lifetime... but I've never been as impressed or seen as big of a change in my body and attitude about working out as I have during my time at Atomic. The coaches are incredibly knowledgeable and hold you accountable. They make safety and injury prevention a priority which is so important to me. The culture they have created is perfect for both my husband and I. We've been going for about 6 months now and can't imagine going anywhere else now!"
- Alex
Dentist
"8 years into my training here and I can say without any hesitation - Atomic continues to be the best investment to my health and mental well-being. Intelligent programming and coaches who are both approachable and well educated keep me healthy and strong into my 40s. I am stronger, more confident, and physically a more capable human being because of the programming. But perhaps more importantly, because of the community and culture Atomic has built I've learned to focus on what my body and mind CAN do.."
- Olivia
Competitive Shooter
"I've played most of the typical sports - baseball, basketball, football, volleyball, track, karate, etc. Needless to say, I've worked with a lot of coaches in a lot of gyms. Atomic Athlete is the best gym I've ever been associated with. The coaches are legit, meaning they know and understand body mechanics, movement, programming. The programming is probably what really sold me on the place. So deliberate and so effective. I love this place. I really can't say enough good things."
- Seth
Runner
Educational seminars, races, and training events of various kinds. 
Get some swag to go with that swagger
Login
Lost Your Password?